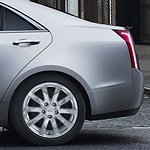 If you're seeking a vehicle that delivers the prestige of the Cadillac name in a dependable, high-performing coupe format, it's time to get to know the Cadillac ATS Coupe. You're bound to like what you see when you visit our showroom here in Olympia to take one of these popular vehicles out for your own personal road test.
The ATS Coupe is powered by a 2.0-liter, four-cylinder engine that's matched with a capable eight-speed transmission. The result is more than 270 horsepower and just less than 300 pound-feet of torque that will allow you to tackle your daily commute or your next road trip with ease.
The ATS Coupe doesn't just perform well under the hood; it also offers a well-designed, versatile interior that includes comfortable seating, abundant storage space and all the latest tech features that are sure to make getting to your destination pleasant, fun and safe.