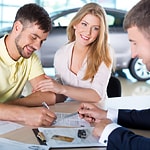 Our team at Titus-Will Chevrolet Buick GMC in Olympia, WA is always ready to discuss options with you about your current vehicle. If you want to refinance your car or may trade in your vehicle, then we can help you decide on what's best for your lifestyle.
Consider refinancing your vehicle if you want lower payments and you still love the vehicle you currently drive. Refinancing is a great option if you want a lower interest rate or to take a cosigner off of your loan. Refinancing is also a great option if you don't mind a longer loan.
Trading in your vehicle is great if you want to upgrade it to a newer model. If you drive a lot and you want to upgrade to a vehicle with fewer miles, trading it in it is also a great option. Trading in your vehicle means that you really don't have to have much down payment because you are using the trade-in value of your vehicle toward the price of the newer car.